Most probably you are not a person who likes to sit and work systematically on academic texts. Your enemies are idling, fear of being incapable and a feeling that time runs away like sand through the fingers. To conquer these enemies, knowing how to write a dissertation in 15 minutes a day would help.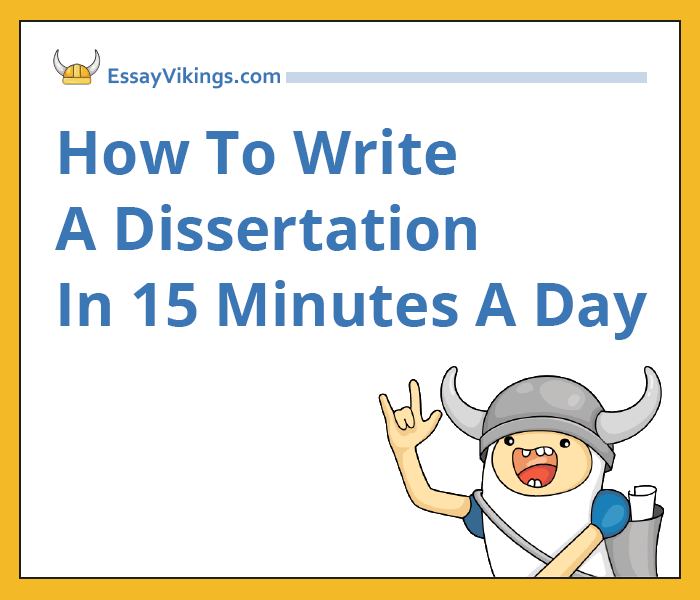 Writing a thesis is fundamental in the educational process. Students show they can use the obtained knowledge, can raise questions that are important and try to find the answers to them. One may start a discussion that will excite the most prominent scientists.
A dissertation creation process varies from institution to institution; there are pages of guidelines on size, logical construction and timing that you may use.
Is it Possible to Write Your Dissertation in 15 Minutes a Day? Yes!
Writing dissertation in 15 minutes a day is a minimum effort needed to give acceleration to your thesis train. The main strategy at first is to keep your production going without breaks. You have to create a habit to brainstorm several paragraphs or pages of text to work further with.
Then your fifteen minutes a day become several hours. This habit engages you into the meaningful doings that motivate. To cope with your write a dissertation in fifteen minutes a day task, free writing techniques could be helpful.
Strategies to Provoke Your Inspiration
Take the guidelines accepted by your university
At this point, some data on logical construction is needed; generally, it is an introduction, methodology, discussion, and conclusion. A mistake some students make is to forget that dissertation is not just a personal intellectual endeavor, but also an academic work. It must be written under the certain rules and is regulated by ISO.
During your work, no one interrupts, and nothing disturbs. It may be fifteen minutes or half an hour. Once set, this timeframe becomes your goal.
Advice: Such goal shall be reachable: for instance, if you are an owl do not reserve early hours, it does not fly.
A mistake is to practice workaholism. If you're determined to learn how to write a dissertation in fifteen minutes a day, do not commit forty at once. Psychologically, it will be hard to reach your target the next day and to form a habit of nursing writing.
Choose any chapter, sit and free write
How to write a dissertation in fifteen minutes a day? Sit and draw up everything that comes to your head on the topic of your thesis, not caring about logic, neglecting grammar or style of expression. Make it a flow of conscience. The main idea is to have a zero-draft full of thoughts which you will polish to perfection.
A mistake is to write one hundred percent free, not using your rational thinking; there is a danger to fall into the philosophical grounds of an essence. Bur overly thinking about the technical details kills your motivation.
Joan Bolker hints in "Writing your dissertation in fifteen minutes a day" you have to "answer such questions, as "What is this material about?", "What question am I asking?", "How might I answer it?"."
Choose the most interesting thoughts and develop them.
Dig more literature on the ideas you have written.
Take your university guidelines once more to get info on formatting, footnote requirement, etc.
Successful working process on your dissertation should no longer be a question. However, if you still do not feel sure about your project, contact your professors, or hire the online tutor who will advise you on how to write a dissertation in 15 minutes a day.